Are you thinking about doing a home renovation but don't know where to start?
It can be overwhelming to try and decide what type of home renovation is the best to undertake.
With so many different projects to pick from, it may feel like there are too many options to choose from.
If you're not sure where to start, don't panic! Ridgeline Improvements is here to help you plan your home renovation and figure out where to start:
How to Choose Your Home Renovation Project
Choosing a home renovation project can be exciting, but it can also be overwhelming. Here are some tips to help you choose the right renovation project for your home:
Identify and Prioritize Your Needs
Start by making a list of the areas of your home that you want to improve. Do you need more space? Are you looking to update the look of your home? Do you want to make your home more energy-efficient?
Once you figure out your needs, prioritize your list based on what is most important to you. This will help you focus on the most important projects first.
Set a Budget
In order to set a budget for your home renovation, you need to determine how much you can afford to spend. This will help you figure out which projects are feasible and which ones are not.
Consider the ROI of Your Home Renovation
Consider the return on investment (ROI) of each renovation project. Some projects, such as adding a bathroom or updating your kitchen, have a higher ROI than others.
This means that these renovations will add value to your home should you decide to sell it in the future.
Talk to the Professionals
Consult with professional contractors to get their input on which projects would be best for your home and budget.
They can also consult with designers and architects to give you a full rundown of what your renovation will entail.
Types of Home Renovation Projects
If you're not sure where to start when it comes to where to start a home renovation, don't worry! Here are some of the common types of home renovation projects to think about:
Kitchen Renovation:

Updating your kitchen

can add value to your home and improve functionality. This can include replacing cabinets, countertops, appliances, and flooring.

Bathroom Renovation:

Renovating your bathroom can also add value to your home and improve functionality. This can include updating fixtures, installing a new shower or bathtub, replacing tiles, and adding storage.

Basement Renovation:

Renovating your basement

can add living space to your home. This can include finishing the space to create a family room, home office, or extra bedroom.

Home Addition:

Adding on to your home

can create additional living space. This can include adding a new bedroom, bathroom, or living room.

Outdoor Renovation:

Improving your outdoor living space can create a relaxing retreat. This can include adding a deck or patio, landscaping, or building an outdoor kitchen.

Energy-Efficient Upgrades:

Upgrading your home to be more energy-efficient can save money on utility bills and reduce your carbon footprint. This can include adding insulation, installing new windows or doors, or upgrading your heating and cooling system.

Cosmetic Upgrades:

Updating the look of your home can improve its curb appeal and make it more enjoyable to live in. This can include painting, replacing flooring, or adding new lighting.
Remember to prioritize your needs and budget when choosing a renovation project, and consult with professionals to help you make the best decisions for your home!
Choose When to Start Your Home Renovation Project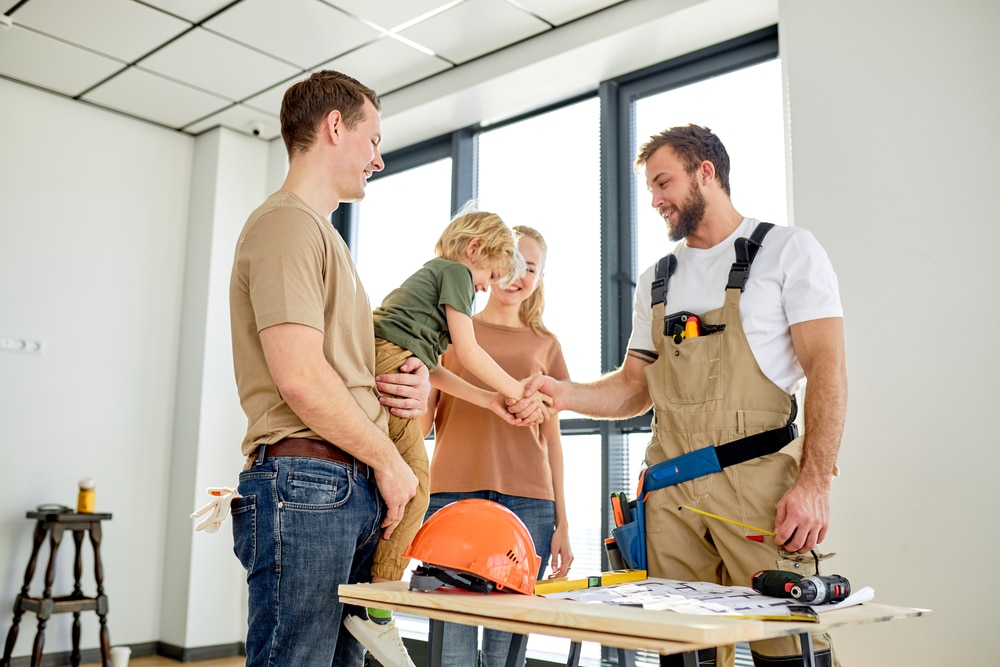 Choosing when to start your home renovation project can be critical, as it can impact your project's timeline, cost, and quality.
If you're not sure when to start, let's look at some factors to consider when it comes to exterior and interior home renovations:
Exterior Renovations
The best time to start an exterior home renovation will depend on things like the weather, the season, and your personal schedule.
First, you need to consider the weather. The weather is essential when planning exterior renovations, and most projects are best done during the warmer months of the year.
This reduces the chances of rain, snow, and stalls in the project's timeline due to cold weather.
Seasonal factors need to be taken into consideration as well. For example, if you plan on adding a deck or patio, this project is best done in the spring to enjoy these new additions during the summer months.
Other projects, such as painting, can be done any time of the year but may require more time and effort during the colder months.
Interior Renovations
While interior renovations can be done throughout the year, taking the weather and season into consideration is also important.
For instance, in the spring and summer, it's easier to ventilate your home to clear out dust and strong scents from paints and other materials. It's also easier for the renovation crew to come in and out of your home without losing heat and cooling down your home.
Plus, you may need to consider where to stay during your home renovation if you can't remain in your home. If you need to stay in a hotel, rates are generally cheaper during the colder months.
Other Factors to Consider
There are other things you need to take into consideration when it comes to when and how to start a home renovation:
Contractor Availability:

If you plan to hire a contractor for your exterior home renovation project, it's important to consider their availability. Contractors may be busier during the warmer months, so you may need to plan ahead and schedule your project accordingly.

Personal Schedule:

Your schedule is also important to consider when planning exterior home renovations. If you have a busy summer schedule, it may be better to start your project in the fall or winter when you have more time available.

Material Availability:

Some materials used for exterior home renovations, such as roofing or siding, may only be available during certain times of the year. If your project requires specific materials, it's important to plan ahead and ensure the materials will be available when needed.
We Are Here For You!
The best way to approach a renovation is to ask yourself what you really want out of your renovations.
Many homeowners will have their own internal 'wish list' of renovations they would like to do but don't really know how or when to start them.
Ridgeline Improvements can help you get started with our expertise and stress-free process!